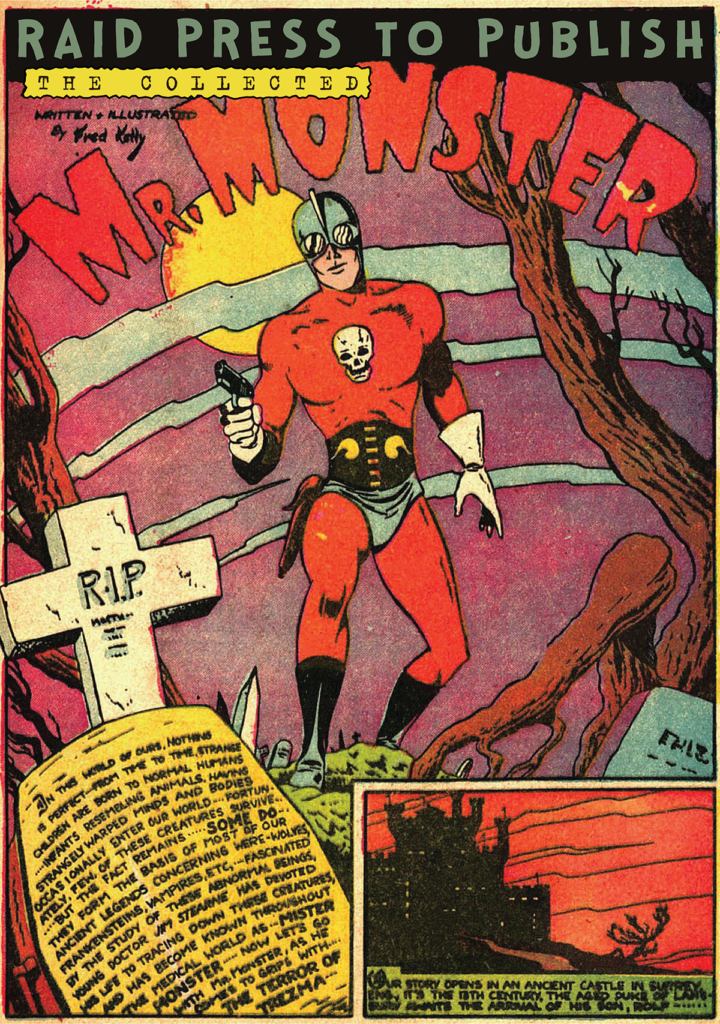 We here at RAID Press are excited to announce that we will be publishing the collected Doc Stearne Mr. Monster comic book series as a hardcover book in the New Year.
It's exciting and long overdue for fans who have been eagerly awaiting news on the dormant project's completion. A wildly successful Kickstarter fundraising campaign — led by part-time illustrator and Canadaian comic-historian Rachel Richey — raised more than $35,000 to see the beloved book come to life.
Created by artist and writer Fred Kelly in the 1940s for the Canadian Whites, Doctor Jim Stearne is Mr. Monster, a superhero who harnesses occult power to rid the world of evil. The series began in WOW Comics #26 as part of Canada's Golden Age of comics and was printed throughout several titles before its final publication in 1947 in Super-Duper Comics #3.
Today, Mr. Monster's adventures are exceedingly rare and out of print. Some of the original stories haven't been seen in 70 years — until now. Scanned from private and Library & Archives Canada collections, it's the first time Mr. Monster's chronicles will be told in full, from start to finish.
Of the project, RAID Managing Director Ramón Pérez said: "I can't express how excited we are here at R.A.I.D. to help bring the Mr. Monster project to fruition. Rachel has been kind enough to bring us on as collaborators to get everyone their book—and we want to do her, the fans, and Mr. Monster, proud." Perez added: "Being a long time Mr. Monster fan myself (I wrote the foreword to the very book we're publishing during the campaign's inception in 2015), I am eager to hold the final book in my hands as much as everyone else."
RAID PRESS is currently designing the book and preparing it for print with an expected delivery in the first qaurter of 2020 along with a gallery exhibit to coincide with the book's release.

You can still contribute to the extended Kickstarter campaign at The Original Adventures Of Doc Stearne / Mr. Monster.