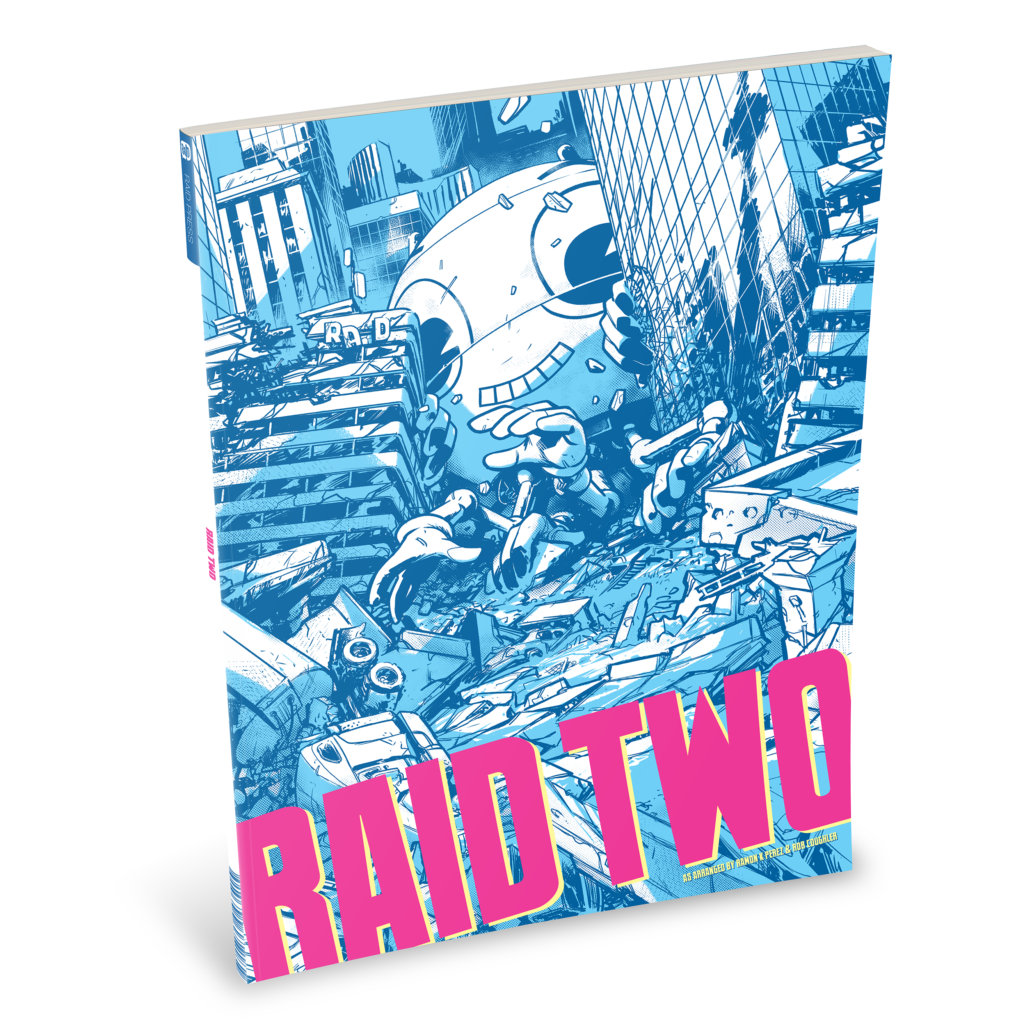 At the end of 2017, the future looked bright for the RAID Studio. RAID ONE, our initial outing into publishing, had done exceedingly well, and we were excited to tackle RAID TWO.

No one could expect what happened next. After occupying the same small space in a four-story brownstone for the last 16 years, the studio had to move. In typical Toronto fashion, a development company had acquired the property and was not renewing our lease.

RAID was now in search of a new home in a very expensive city. After a difficult search and several months and viewings later, a space was eventually found – but it was far from a turnkey solution. Our new studio was a fixer-upper and needed a lot of love to make it home.

So, what does this have to do with RAID TWO?
Truthfully, this book stands as a testament to our survival. While moving, renovating, coupled with a chaotic, disjointed workspace, everyone came together and created some of their best work.
There is a sense of closure with RAID TWO; it began in one studio and ended in another. The destruction of the old, a shattering of what once was, to rebuild anew with a focused vision.
It's incredibly fitting that this book of art, created by so many different minds, reflects the time during which it was created. Even the cover – which was designed before we found out we had to move – seemed to foretell a future. Herein lies not only stories but memories encapsulated during a time of teamwork and transition.
Coming in at a giant 144 full pages it showcases all-new and original content by RAID creators and colleagues. Featuring work by Kalman Andrasofszky, Sheldon Carter, Taran Chadha, Willow Dawson, Anthony Falcone, Ian Herring, Joe Infurnari, Irma Kniivila, Nimit Malavia, Rachel Matile (RHYMEwithRACHEL), Ramón K Pérez, Gabe Sapienza, Gibson Quarter, Kyle J Smith, Cameron Stewart, Mike Valiquette, Eric Vedder, Joe Vriens (JOVERINE), and Tri Vuong!
Visit our online store to purchase a copy, or if you're interested in carrying our books please reach out to us directly at info@RAIDpress.com.